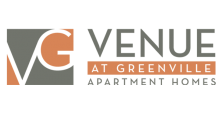 Your Review
Submit a Review

Resident Reviews
The property is very well maintained.
|

Recommended: Yes
Good Staff, Good Apartments Parking is Terrible
|Recommended: Yes
The apartments overall is the best. The parking is not so good. After 10pm, you almost have to park on the other side of the apartment complex just to find a parking spots. I wish th
Latonya, Thanks for your input. We are working on a new towing contract which will hopefully improve parking issues.
It a good cheap apartment|Recommended: Yesit good apartment to rent, but the most problem is the ac compresser fan is loud which is we can hear it through the wall and parking spot get full most of the time at night
Its ok|Recommended: YesIt is a great location but they take to long to respond to anything just need to work on that.
Pretty Good|Recommended: YesI moved to these apartments in March 2017 from apartments that were the absolute worst. They never took care of my maintenance issues. But the Venue at Greenville has been very timely when it comes to my concerns, fixing most problems same day. Parking is good unless you come home after 10 pm, then the lot is packed. Some residents are lazy when taking their trash to the dumpsters but staff tends to get it cleaned up the best they can. Noise level is minimal. Just wish the gates worked more often, although they usually get fixed within a day or two.
Rev of complex|Recommended: YesOverall great place to stay besides small space not enough closet space. My new neighbor and her boyfriend are always loud and fighting other than that really good place for a reasonable price.
The Staff here is really doing a GREAT Job and my Lease Renewal went GREAT they GET Two THUMBS UP From ME. Harmon Wilson 1035.
|Recommended: Yes
GREAT
We appreciate your feedback! We strive to provide great customer service.
Herman Lewis
|Recommended: Yes
Herman Lewis the handy man was extremely helpful and amazing in the way he performed and acted in my apartment
Thank you for taking the time to let us know what a wonderful job Herman is doing. He is the best lead would could ask for!
I love Venue
|Recommended: Yes
I have been a resident of this complex for 13 years. Over the years, I have not had any problems living here. The management is always friendly and available to help you. The grounds are well kept. Maintenance is always on top of Work Orders. Overall, I am beyond satisfied with my community. I love Venue on Greenville.
Thank you for taking time out of your day to write us, we greatly appreciate it! We strive to provide superior service for our residents and residents to be.
New management, New problems.
|Recommended: No
Nice property in a good location, but the renters are poorly-minded that make the complex look trashy and uncomfortable to live at. New management are distracted from what really matters - listening to the current residents and up keeping with day-to-day duties.
Thank you for your feedback! We greatly appreciate you taking the time to write us. I am sorry we are not meeting your needs. We are going through a huge renovation, starting with the exterior. Changes are coming. We have started with the landscaping and then working our way towards the buildings. Please come in and let us know what items you are referring to. We want to make sure you are comfortable in your home and the community you live in.
Bad apartments
|Recommended: No
necesitas tener un carro para vivir en estos apartamento no mas te dan un sticker para un carro si tienes otro carro necesitas parquiarte adonde dicen visitores casi no hay no mas 6 parquiadero no lo recomiendo que renten aqui las maneger son nuevas son tontas y no pueden tener fiestas aqui no nooooooooooooooooooooooooooooooooooooooooooooooo renten no son apartamentos para que vivan sorry tienen cucarachas no son bien para los ninos para que vivan
Thank you for informing us of your situation. We have set a community wide clean out to help cut down on the insect issue. We will get this under control and today is the final day of the mandatory clean out. After today, our pest control company will put all homes on a rotation of being treated twice a year. Keep in mind they will be out every Wednesday, excluding holidays, so please take advantage of this and place your name on the list if you wish to be treated on a day your home is not scheduled.
Dont rent here|Recommended: Nothe new manager are stupid they only give you one sticker for a car you can't have two or more they will give you a visitor and there are o.my about 6 visitor parking or the tow car will take your car theywon'tbe responsible for your car if the thowe the car don't rent here
The views and opinions expressed herein are solely those of the original authors and other contributors. These views do not reflect the views of "The Venue at Greenville", its owners, managers, agents, employees or content providers. No representation or warranty, express or implied, is made or given by "The Venue at Greenville", its owners, managers, agents, employees or content providers regarding safety, accuracy, completeness or suitability of the information or material expressed herein for any particular purpose